Vocalist Grace Robertson, is excited to take on the St. Louis scene with Mirage Entertainment. Grace first hit the stage doing musical theatre at the age of seven, and has never stopped performing since. Working her way up playing with various bands and church groups, Grace has experience with a variety of genres and can make any song an energetic and memorable experience.
Graduating in May 2022 with a Bachelor's degree in Sound Engineering and Music Recording from Webster University in St. Louis, Grace continues her musical journey teaching vocals and guitar at The School of Rock, and producing and engineering at Mid Coast Media and The Sheldon Concert Hall.
Whether singing a jazz standard, current hits of today, a Mo-Town classic and everything in between, you'll be sure to enjoy the passion and energy Grace brings to each and every performance as the front person and lead singer of Mirage.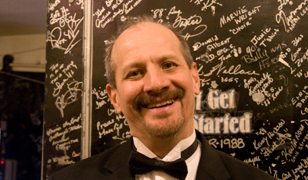 Craig Roeckle, bass guitar, electric upright bass and vocals, is a well versed musician accomplished in playing all styles of music from jazz standards to funk and all genres in between. A veteran of the St. Louis music scene, Craig has been with Mirage for twenty years.
Craig has played with other St. Louis bands such as Bob Kuban, The Johnny Polzin Orchestra, Four Hits and a Miss and Xpression to name a few. Having studied music at Loyola University in New Orleans, Craig brings a wealth of music theory to the band and is responsible for much of the band's arrangements.
When not playing music, Craig is a team manager at Duke Manufacturing in St. Louis.
Darren George, drums and vocals, is another original member of Mirage. Playing drums from grade school through college, and also teaching for many years at Nottelmann Music Company and several grade schools, you'd be hard pressed to find a time when Darren was not playing music of some kind. Darren has also performed with other bands including Atlantis, Rising Star, Deliverance, Xpression and Quintessence.
When not playing music, Darren is a Business Manager for the Nursing Division at Barnes Jewish Hospital.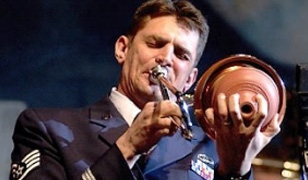 The newest member of Mirage, Steve (trombone and vocals) began playing trombone at the age of 10 in the heart of Cajun Country – New Iberia, LA. He entered the USAF in 1990 after earning a Bachelors in Music Performance at the University of Louisiana, Lafayette. After joining the AF he was stationed at Scott AFB, IL and was prominently featured as principal trombonist with the Concert Band, lead/solo trombonist with the Shades of Blue Jazz Ensemble and Starlifter Rock Band.
Steve was assigned to the USAF in Europe Band in Germany from 2001-2003 where he performed exclusively with the USAF Jazz Ambassadors as lead trombone and soloist. While performing with the Jazz Ambassadors, he toured Italy, Germany, France, Austria, Switzerland (Jazz/Band Fest), Luxembourg, Belgium, Denmark, Norway, Netherlands, UK, Ireland (Cork Jazz Fest), Azores, Bosnia, Kosovo, Macedonia, Croatia and Azerbaijan (Baku Jazz Fest).
After returning to Scott AFB, Steve deployed as trombonist with the USAF Academy rock band Blue Steel, performing in Qatar, Kyrgyzstan, Bahrain, Djibouti, Afghanistan and Iraq.
Steve ended his 24 year AF career as NCOIC (Non-Commissioned Officer in Charge) and Musical Director of the famed USAF Shades of Blue Jazz Ensemble at Scott AFB, IL. During his tenure, the group won rave reviews as having raised the musical excellence beyond previous levels.
He has performed with the St Louis Symphony, Martha and the Vandellas, The Four Tops, The Temptations, Clint Black, Jimmy Dorsey Orchestra, Bill Watrous, Buddy DeFranco, Butch Miles, Bobby Watson, Maynard Ferguson, Ed Shaughnessey, Carmen Bradford, Bobby Shew, Mike Vax, Tom Kennedy, Steve Smith, Mike Vax, Jerry Coker, Jeff Jarvis, Jamie Aebesold, Michael Feinstein, Tony Orlando, Tito Rojas, and Anacani.
Steve's personal musical style is a result of his Cajun/Creole/Funk/Zydeco/Soul/R&B cultural roots from south Louisiana. He can currently be heard with groups throughout the St Louis, MO area, the Mid-West and South Louisiana and has recorded extensively with the USAF Bands. He has studied with Kenny Brantley and Dr. Bob Schmalz.
With his vast experience and musical expertise, Steve does most of the arrangements for Mirage.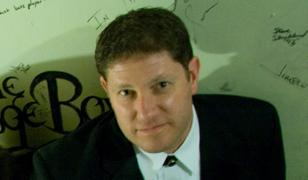 Brett Hofius, piano, keyboards, saxophone and occasionally drums, is a founding member of the band. Going back almost 20 years, Brett along with his brother who used to play bass guitar in the band, formed Mirage. Playing multiple instruments, as he does, makes Mirage that more versatile.
He has studied music at CMSU for composition/performance/ business. For a short time, Brett pursed other musical interests and performed with the band Vision and the Steve Leslie Band and was fortunate to open for nationally known acts. Brett has shared the stage with bands that include, Night Ranger, 38 Special, Jefferson Starship, Reo Speedwagon, Loverboy, Cheap Trick and toured with country star Kimberly Cash.
Away from Mirage, Brett is the president and owner of QCE Aluminum Fence.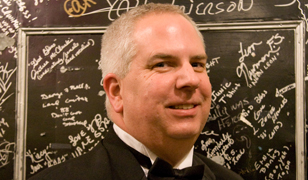 Lou Bleile, lead vocals and guitar, is also an original member of Mirage. From teaching guitar lessons for many years at Nottelmann Music Company, to playing in his church's 'Praise' band for several years, music has been and is a big part of Lou's life.
When not performing with Mirage, Lou is a Representative for Aflac.
Jason Kaminsky (alto and tenor sax, flute and vocals) began playing in his first professional band at age 16. Over the years, Jason has been a member of many different bands that range in genre from Top 40, to rhythm and blues, to classic rock, to big band jazz, to sacred music. Jason has performed with many top St. Louis bands including Bob Kuban, Yessir!, the Rhythm Imperials, Route 66 Jazz Orchestra and the Steve Marino Review. One of Jason's personal musical highlights was performing with guest soloist jazz legend Louie Bellson.
When not playing music, Jason teaches at Missouri Baptist University. Jason holds a Doctorate of Management degree from Webster University and an MBA degree from Washington University.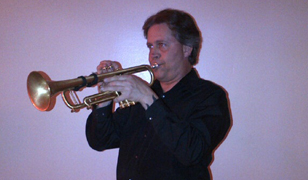 Kurt (trumpet and Flugelhorn) attended both St. Louis University as well as UMSL and holds a bachelor's degree in music management from the University of Missouri at St. Louis. Trumpet has been his instrument of choice since 4th grade, thanks in part to his Dad's affection for Herb Alpert and the Tijuana Brass.
Not surprisingly, his musical influences include classic jazz artists such as Miles Davis, Dizzy Gillespie and Maynard Ferguson. He also enjoys the rock genre quite a bit.
Kurt recently retired as an I.T. systems and support manager for the St. Louis Public Library. Kurt also performs with the popular band Rockin' Chair.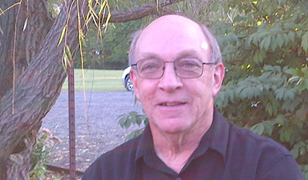 Mirage's Sound Engineer, Tom Blake originally started his musical career as a drummer, singer and vocal arranger. His training at Synergetic Audio Concepts has provided him unmatched training that has advanced his career in to producing live performances as well as work in the recording studio. A few of his credits include the opportunity to tour with and engineer for Bobby Carlisle (Butterfly Kisses) and Bryan Duncan.
Closer to home, Tom was the live recording engineer for the MTV documentary on multiple grammy winner Nelly, he's engineered several shows at the Verizon Wireless Amphitheatre as well as various top local bands including Smash, The Fabulous Motown Review and Butch Wax and the Hollywoods.
Mirage lost two wonderfully talented friends and musicians in the past two years, Mr. Kenny Schwein (sax) and Mr. Robert Ray (Trombone and vocals). Kenny and Robert played together for many years as early as early as their college days while at UMSL, then with the local band Quintessence and eventually Mirage. Mirage would not be where it is today without the many contributions of these two. RIP Kenny and Robert.